The Conversation Prism
Oct 19, 2010
As the online landscape grows, it's not just pushing its own envelope… it's starting to encroach (not that we mind) on the real world.
The Conversation Prism is a visual encyclopedia of the social media universe, encompassing 28 different "conversations species" that exist online… from wiki sites and blog platforms to custom social networks and social commerce. The 2010 update to the original 2008 Conversation Prism, which contained 22 much simpler species, is most interesting when one considers its nuances. Sure, there are 28 different conversation types now, and boy does that seem like a lot. But the micro-variation of platforms within each species are what's really getting us going.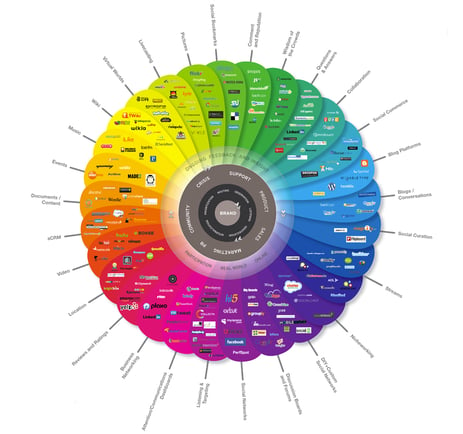 Consider location-based networks like Foursquare, Gowalla, Loopt, and Brightkite. They're all cut of the same cloth, but surely they're not carbon copies of each other. So if we group these – and the rest of their kind, or any kind – we can consider their features as a collective set… and then set our entrepreneurial minds to work creating a category killer app to rule them all, or an aggregator, or an app that fulfills something missing from the group.

All of these online networks have a live component because, of course, humans are populating them. But it's interesting to see how the categories that always intersect the offline world – Location, Events, Livecasting, Pictures – have matured. And all of a sudden, Groupon is the elephant-sized 800lb gorilla in the room. We have a complete newcomer in Social Commerce, which didn't even exist in 2008 and feels like it's already reached puberty two years later. The offline to online information flow is being complemented by an online to offline activity flow. Online social networks now loop to offline social experiences.
The lesson here is this: social networks aren't just online phenomena created to enable and introduce variety to electronic communication. They're becoming amphibious… to stretch a metaphor, they're going to live, we think, at the tideline of digital+live experience.