Get a free demo account today. Build multiple campaigns and test our platform as much as you'd like prior to purchase.
Fill out the form below and we'll email you logins to your new FotoZap account.
- or -
Ready to purchase? See pricing and fill out the form at this link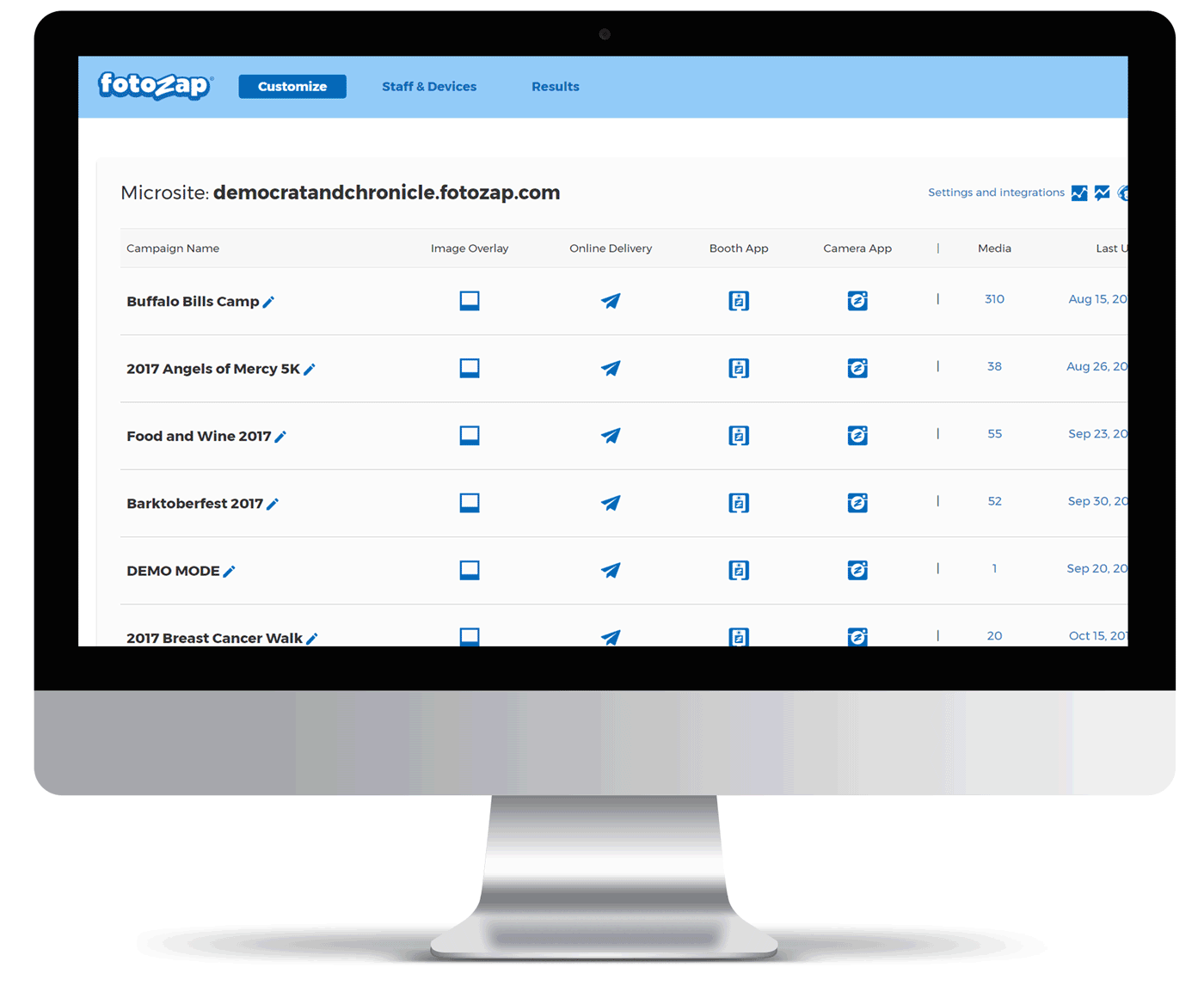 Quick & Easy Campaign Creation with Presets
Add music, animations and effects in seconds.
We've prepared multiple speed change templates that you can load with one click (e.g. slow-motion/fast motion/repeat segments, etc.)

Select from over 20 audio files to play during your video or photo view...or upload your own music selection

Select from dozens of filter and overlay effects

Add a pre-loaded animated overlay from our library, or upload your own

Slow Motion and Looping Videos

Use our default language for email or SMS notifications, or add your own preferred language

Customize your overlays and watermarks.

Banner for each Campaign that displays above the photo

Add your own Pre or Post Video Clips
Multiple Capture & Delivery Options for Your Media
You control how images are shared
Capture Photos, Videos, GIFs and Boomerangs

Use a photo booth, 360 booth, or handheld capture

Use Email and Text Messaging to deliver the images, or use AirDrop or Direct Delivery

Delivery options include QR codes or a built-in customizable survey

Galleries are created automatically for any guest with multiple images

Up to eight sharing options including TikTok for videos

Use one or more sharing stations for photo pickup

Add a consent screen that must be agreed to before proceeding

Optional Photo Access Card capability

Customized Print Templates for 4x6 prints

Print to any AirPrint or DWP Printer
Advanced Features Offer Unique Benefits for any Event
Be a Power User and stand out from the competition
Dozens of built-in Video Special Effects

Use iOS or Android Devices

Add a pre-capture instructions screen that appears to the guest prior to photo capture

Cloud Storage and Management of images

Instantly copy all of your settings to new campaigns

Download you photos or videos with or without an overlay

Manage Users and Campaigns remotely

Photo and Video Background Replacement without a physical greenscreen

Add an Age-Gate to any campaign

24/7 Data and Dashboard access with advanced analytics and scheduled reports

Built-in API integrations with Google Analytics, Dropbox, Facebook Albums, Constant Contact, Mailchimp and more