Turn Event Attendees into Brand Superfans using Social Media
Mar 4, 2013
Social marketers must do more than simply convert customers and event attendees into Likes and page views: the trick is to turn each customer into a contributor of social media that promotes your brand. We call these contributors " superfans" because they spread your message in the most powerful way possible.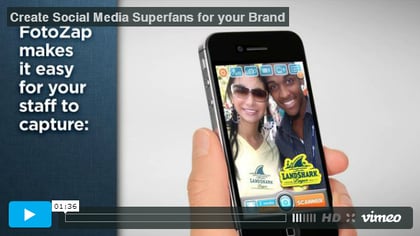 Watch the video.
User Generated Content: the key to social marketing
When a consumer posts User Generated Content (UGC) about your brand, they are endorsing your brand to their friends. Fotozap is a social marketing app that puts you in control of that process. Your front-line employees turn consumers into superfan contributors. Employees use the app to capture a branded photo or video of the customer, which the customer then shares across social networks.The result is that every use of Fotozap creates a branded social media story for the consumer to enjoy and share with her friends.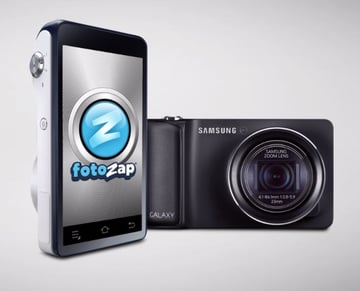 Step #1: Your staff captures images of customers as social media stories
Team members download Fotozap to any iOS or Android device to begin capturing branded moments – with your customers in the spotlight. The Fotozap app gives your front-line employees multiple ways to capture images. Capture a) photos, b) videos, or c) import enhanced images from other apps in the iOS or Android ecosystem.Then your team shares the images with the consumer by typing in an email address, giving out a photo access card, or handing out a printed photo. Fotozap offers the complete set of options to turn photos and videos into visual social media that gets shared.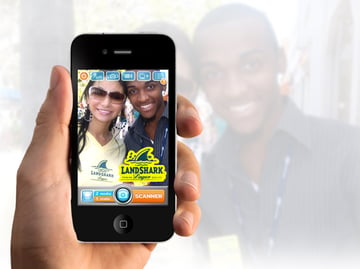 A. Capture branded photos onsite. Overlays on the screen allow the brand ambassador to line up the consumer with the logo or digital scene.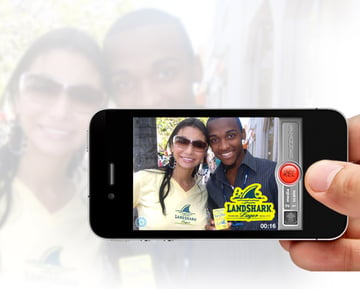 B. Capture videos as part of a contest, interview question, or event experience. Consumers retrieve and share their video online.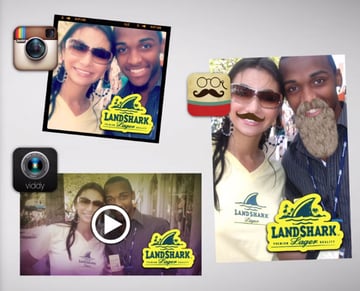 C. Use any image app on iOS or Android to create an enhanced image and then share it with the consumer as branded social media.
Step #2: Customers visit your brand's Facebook Page to view and share
The link on the printed photo, branded giveaway card, or photo delivery email leads directly to your brand's Facebook Page or campaign microsite, where the consumer can view their branded image, share it, and take advantage of coupon downloads, online promotions, or special offers. This is the perfect way to create true fans of your brand — fans that actually promote your messaging to their friends.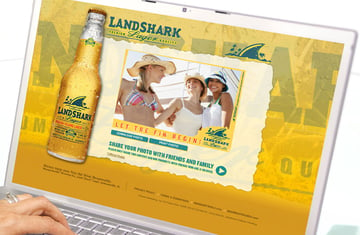 We can build photo retrieval and sharing features right into your brand's Facebook Page.
Step #3: What do you want your customers to post about your brand?
A limited number of your customers or event attendees are already contributing positive social media about your brand. Fotozap amplifies those stories and makes it so that every consumer can share your brand story as their own.There are just two questions
to answer to get started:
1. How many superfans do you want to create?
2. What story do you want your customers to share with their friends? That they attended your sponsored event; purchased your product; supported your cause; were transformed into your character; or entered your contest…? You select the story, and we'll make sure that it gets built around every consumer photo or video you capture.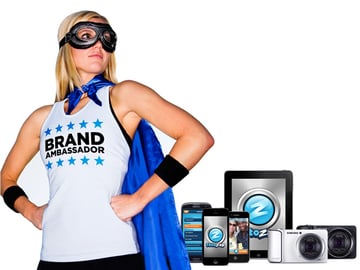 Your team members can run Fotozap on any device: Android Cameras, iPads, iPhones, and Android Smartphones can all turn your staff into social media superstars. Contact us and let us know the goals of your social media strategy. We will show you how to orchestrate consumer stories around your message.