Be Evel at the Harley-Davidson Museum
Jun 9, 2010
We teamed up with the Harley-Davidson Museum to bring their Summer 2010 Evel Knievel special exhibit to life. Insert-a-Face integration took the show beyond artifacts and photographs to create an interactive experience. Check out our press release announcing the partnership…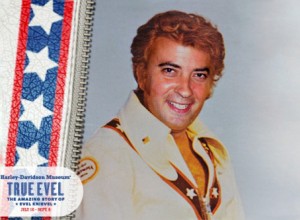 Picture Marketing Launches Insert-a-Face™
Experiential Marketing Program for the Harley-Davidson Museum
Novato, CA, June 9, 2010 – Picture Marketing, Inc. today announced an innovative new program for the Harley-Davidson Museum, enabling visitors to insert their face into Evel Knievel's classic action photos.
Picture Marketing is a developer of experiential marketing applications and technology. It teamed up with the Harley-Davidson Museum to bring their Summer 2010 Evel Knievel special exhibit to life. The retrospective tells the story of the folk hero and daredevil superstar, going way beyond artifacts and photographs to make the exhibit an audience-engaging interactive experience.
Picture Marketing's patented photo activation platform is integrated into the show to allow visitors to record their "Evel Experience" with a photo memory. After their visit, participants retrieve the picture online and are treated to a free Insert-a-Face™ application that lets them relive Evel's classic action stunts by putting their own images into the photo. Stepping into the famous daredevil's action shots is sure to make a museum visit a far more memorable experience…and it can be shared with friends and family at no cost.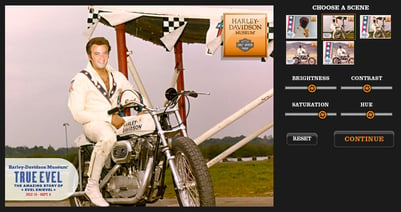 The museum expects fans to have a strong positive reaction to the visit and the online activities offered through the Insert-a-Face™ application. They are excited to make this innovative way of engaging their audience a fun, user friendly, yet memorable extension of the event, while establishing a proprietary database and gathering valuable marketing intelligence on which future marketing programs can be based.
"Harley-Davidson wanted to deliver an authentic exhibit that offered visitors a glimpse of the uniquely American history and culture embodied by Evel Knievel," said Joe Frisch, Picture Marketing VP. "The Insert-a-Face™ program allows the museum to send a sharable memory home with each visitor, and brings it to a deeper level of engagement by inviting fans to 'Be Evel' when they add their faces to some of his most famous photographs."
Picture Marketing's groundbreaking Ricoh Fotozap® Camera is at the heart of the system, allowing the company's popular creative technologies, Virtual Greenscreen™, Photo-to-Video™ Animation, and Insert-a-Face™to seamlessly integrate into virtually any experiential marketing program.
About Picture Marketing, Inc.
Picture Marketing, Inc. is dedicated to measurably boosting the return-on-investment its clients make in marketing programs by creating photo activation technologies and services for the marketing industry. Their patented experiential marketing platform is designed to amplify a consumer's connection with a brand, enable a rich online experience, and build a proprietary database for the client while capturing valuable data around each interaction.
• Memorable photos provide an opportunity for social networking and viral activity, and elevate mobile marketing campaigns to penetration levels previously unheard of, dramatically reducing costs.
• The Picture Marketing system helps brands increase sales and move the sales needle through lead generation. Successive programs cumulatively establish a valuable, proprietary database.
• Picture Marketing's system effectively ushers consumers into any number of fully branded activities, each of which is specifically designed to fulfill a marketing goal.
Picture Marketing, Inc. is located at 1202 Grant Avenue, Suite D, Novato, California 94945, with offices in Miami and New York. Please visit www.picturemarketing.com or call (949) 623-9889 for more information about the company and to arrange a demonstration of the Picture Marketing System. For media inquiries and to arrange for an interview with the chief executive officer, please contact Gary Douglas at (949) 464-9301, email: gary@DouglasStrategic.com.