Photo-to-Speech™ Animation: App to the Future
Aug 10, 2010
Our customers (brands and agencies, often) are always looking for new ways to let their fans "play" with the pictures we take at photo activation events. We've come up with some awesome technologies to support that need – from adver-gaming (yep, is what it sounds like) to Virtual Greenscreen™. For the past few years, we've teamed up with the amazing creative minds at Oddcast to bring Photo-to-Speech Animation to our photo arsenal.
The Photo-to-Speech application puts fans at the very center of the action and brings the image to life, using facial recognition technology to animate the lips, eyes, and expression of a participant's photo. Fans add speech by entering text, speaking into their computer's microphone, or recording a telephone message. Their words are spoken through the moving lips of the animated photo.
The app is impressive to see, and very fun to play with. It's also a handy way to generate lots of buzz around a photo activation campaign. As with all Picture Marketing photos, participants can save the image and use the site's click-and-share social networking capabilities to post their animation online.
Want to give it a try? We've got a basic version that will run you through the ropes:
1. Visit http://www.geicotalkingphotos.com/#mId=36315285.3
2. Turn up the volume to listen to Kristen as she searches for her GEICO Caveman
3. Click the "Make Yours!" button to upload a new photo and add your own speech
4. Share your creation: you can email to a friend, grab the URL, or post the entire widget to a blog or social network
From there, you can get more creative and complex – the Trek Yourself app was wildly popular during the launch of 2009's Star Trek movie. You can still view the app online, at http://www.facebook.com/TrekYourself. Hop right through the intro to get the full experience and get Trekked using your own photo.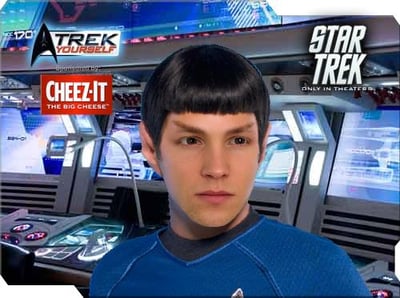 The viral power of an application like Photo-to-Speech can't be underestimated. Check out these metrics from a 2009 campaign:
• More than 650,000 users loaded and interacted with the application during the first five weeks it was live
• 51% of all application users (333,000) came to the application from a viral source, whether it was an email, a posted creation, or a grabbed and shared message URL
• Approximately 240,000 users – 37% of the total – uploaded a photo to create their own personalized character
• Of these users more than 98,000 shared their creations with friends, whether by posting to their blog or social profile, emailing, or grabbing and passing along a unique URL linking to their creation