How to Plan Large-Scale Photo Booth Deployments
Nov 28, 2016
I recently spent a day in the Ace Hotel lobby, on 29th Street in New York City, a popular public workspace, and witnessed the installed photo booth being used consistently throughout the day. As the guests enjoyed the photo capture experience, the sponsor was effortlessly collecting valuable consumer data…and benefiting from lots of social sharing (the smartly branded kind).
Installing a photo booth for a longer-term promotion requires special considerations that are very different than running a photo booth at a single event. This is even more true when photo booths are deployed at large scale.
Planning a Photo Booth Promotion
Photo booths are surprisingly effective way to move the marketing needle, but there are a lot of things to consider. To nail down the promotion we have found it useful to ask yourself these 5 questions:
1) Customization of the Digital Experience
What experience do we want to create for the consumer, from photo capture to sharing?
The level of customization should map to your goals in these four key areas:
Photo Booth Screen Experience and Physical Branding,
Data Collection,
Online Display and Calls-to-Action, and
Social Media Sharing
2) Distribution of the Software and Creative
How do we want to deploy and refresh this promotion to our different locations?
For example, one deployment option is to push out a custom capture app to a company's existing iPads through their Mobile Device Management (MDM) system. Updates to the photo booth experience can be pushed out on a schedule to match in-store promotions or sponsored events.
3) Customization of the Photo Booth Housing
What form factor is a good match for our locations, and what branding do we want to apply to the booths?
Photo booths (and hand-held mobile devices) can be branded with Point of Sale displays that are easily swapped in during the life of the promotion. For example, a metal tower photo booth can be vinyl wrapped or dressed up with custom-shaped marketing panel.
4) Distribution of the Photo Booths
What is the best way to deploy the photo booths to our locations and train our staff?
Shipping, assembling and running large numbers of photo booth for extended promotion presents some challenges. For example, a promotion might require white glove delivery and install of photo booths in hundreds of retail locations. This is only possible if the hardware and software is designed for this type of deployment; photo booths based on a Windows platform, for example, are not a good match for long term installs.
5) Reporting
What are the Key Performance Indicators (KPIs) that we want to track on each photo booth across our network?
In addition to seeing overall stats, and the real-time health of all photo booths, it is also crucial to be able to view at a glance which photo booths are over-performing on KPIs, so that best practices can be identified and spread.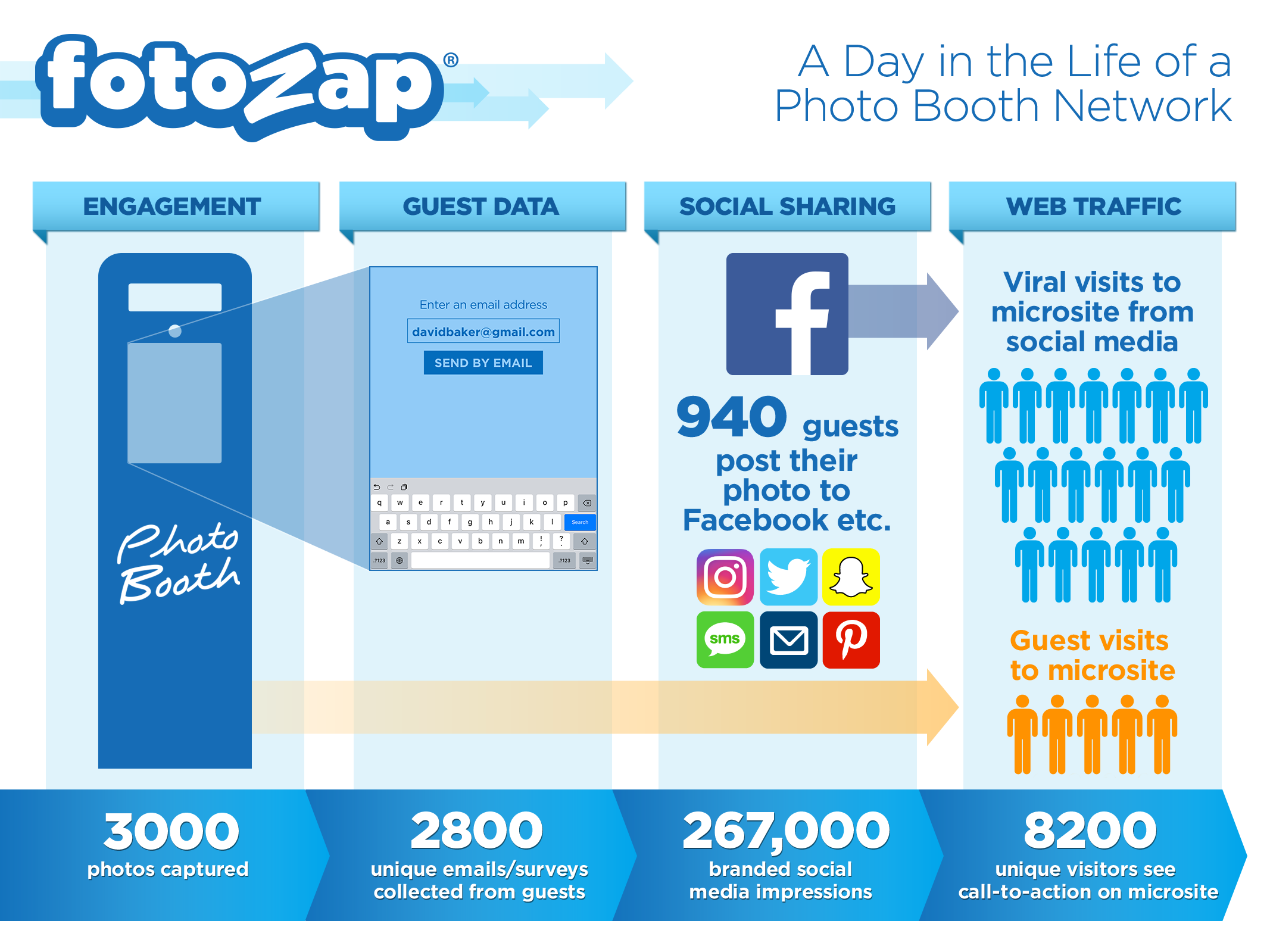 A Photo Booth Platform Designed for Deployments
The Picture Marketing Platform is our end-to-end solution for enterprise photo booth deployments. The platform allows us to create marketing activations where every element is controlled throughout the entire promotion.
From the hardware and onsite branding, to the data collection, to the online creative and user experience, to logistics and reporting, to integration with contests and large screen displays…our technology and services are optimized to the needs of brand marketers for one location or multi-thousand location rollouts.
Talk to Our Photo Activation Experts