Happy New Year with Heineken
Jan 2, 2011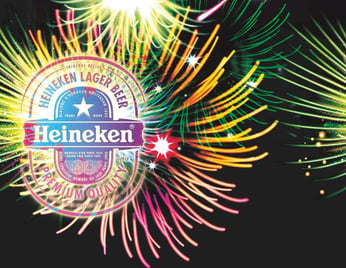 Happy 2011!
We rang in the New Year with Heineken in Miami. Dutch electronica artist Tiësto provided tunes and thumps for the evening, which made for a seriously rockin' New Year's Eve, as they say.
Heinekens in hand, partygoers (over 21, of course) were invited to have a photo taken with their friends and enter to win a VIP trip to the Ultra Music Festival, where they'd have a chance to meet Tiësto in person.
(Check out the cool aluminum bottles in the guys' hands – making it a little easier for everyone to drink -or drop- responsibly throughout the night.)
One of our favorite things about photo activations at big parties like this one is that as the night goes on, everybody is making new friends to take photos with. With a great photo op and one or two roaming photographers, people end up having their picture shot dozens of times throughout the evening. We scan each person's card over again with every new photo, so when they get home in the morning they can see a photo diary of the entire evening with a single click-through.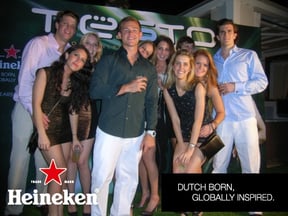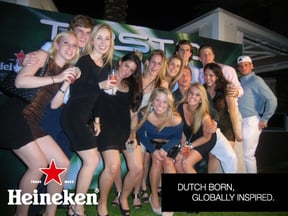 Making so many new buddies brings us to the next part of our story… Facebook integration.
Heineken opted to run most of this promo directly through Facebook, which ended up having a few neat effects:
To pick up their photos, participants went directly to Heineken's Facebook page (which we printed easy directions to on the Photo Access Cards for the event). Que a jump in Facebook views, of course.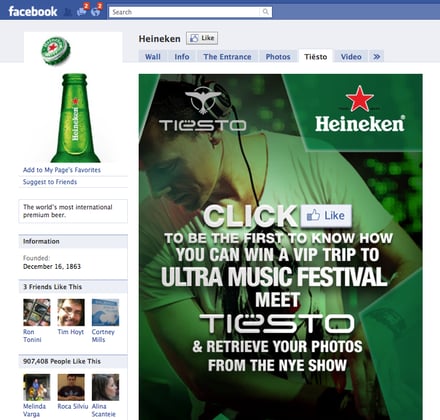 Then, we added a "Like Gate." Heineken wanted to boost page likes, and we found a simple way to do that by requiring users to click the Like button before moving on to the next step. As any good amigo would do, Heineken provided VIP concert ticket info and the New Year's Eve photo view in exchange (in fact, their page is now pushing 1 million likes!).
After clicking through, users were at the campaign microsite, where their photos were displayed along with lots of sharing options.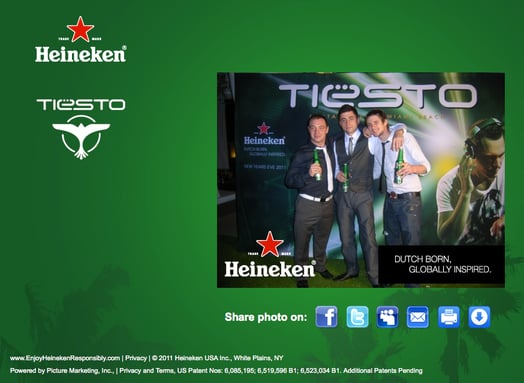 We doubled-down on the social networking integration portion of the activation by looping directly back to Facebook, Twitter, and Myspace (as well as adding options for emailing, printing, and downloading the photo). So users who started at Facebook to get their photo, Liked Heineken in the process, and viewed their pictures… naturally turned around and posted the photo back to their own Facebook Walls. It's a pretty cool feedback effect that results in lots of Likes and contest entries on the brand page.

All in all, a great New Year's Eve party with tons of friends and awesome music. Thanks to Heineken and Tiësto for making us feel cool the whole night. For the party-hardy among you readers who are already planning next year's bash… give us a buzz! (Because as geeky as it is, nothing makes us feel cooler than having our phones ringing off the hook.)