Facebook Fever
Dec 21, 2010
Or: How We Learned to Stop Worrying and Love the Wall
Here at Picture Marketing Headquarters, our phones have been ringing off the hook with questions about Facebook: how can I best incorporate social networking into my next marketing campaign? What are the options, and what's the latest and greatest in Facebook integration? Can you link the photos from my next event to my page, or even require fans to Like my page before they view their images?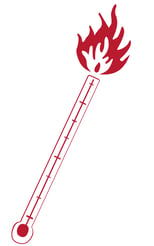 Whether the fever pitch of Facebook requests is here to stay or a passing fad, it's clear that brands and agencies consider the social network to be an essential aspect of the campaigns they're currently developing for 2011.
The right approach to Facebook integration will enable your brand to build community around your campaigns, and use that community to boost customer happiness and drive product demand. The wrong approach… well that's just a waste of time and goodwill.
For the newly initiated and the die-hard networker, we've developed a multitude of Facebook-ready solutions for your next photo activation. These turn-key integrations can supercharge any experiential marketing effort… and light up your social network along the way.
Here's a small peek at how we can use photo activation and experiential marketing to generate Facebook traffic, links, likes, and looks.
Like Gate
Fanatic about growing your fan base? Ask guests to "Like" your brand before they move forward at any point during their photo experience. For example, fans might have to click Like before seeing their photos, entering a contest, or requesting a free sample. We can even execute the process onsite – so that friendly brand ambassadors have an opportunity to interact with fans and deliver the call to action.
Photo Posts on a Consumer's Facebook Wall
To encourage online photo sharing, add a banner to the photo display page so that at the click of a button, fans can post their event photos to their Facebook Walls. Posted photos link back to the Microsite so that each click generates additional traffic for the sponsor. The photos also retain their branding (such as logos, watermarks, borders, or other effects) so that your message travels with every share.
Photo Posts on a Brand's Facebook Wall
Attract views and interactions by using photo activation as the digital+live bridge between your Facebook Page and your onsite event presence. Once fans are viewing their photos online, invite them to post the photos, along with comments, to your brand's Facebook Wall. You can also set a predetermined phrase to appear before or after the consumer's caption so that your message earns extra mindshare with every post.
Like Button or Facepile Box
A simple Like button can prompt users to proclaim their love for your brand. The Facepile Box lets visitors see how many users already like the brand, and which of their friends like it.
Activity Feed or Wall Feed
Let users see a stream of the most interesting recent activity taking place on your site. The Activity Feed displays stories, recommendations, and shares based on recent interactions on your Facebook page. The Wall Feed shows a live stream of items you've posted to your Wall. Both are great windows into an active, vibrant social media presence – and they're enriched, of course, by the Likes and Photo Posts that you encourage during and after your sponsored event.
Now that we've written about all the cool things you CAN do with Facebook integration… what about the stuff you should ignore? We'll follow this post up with some road-tested advice next week. Hint: Stand by your brand.
The linked icons will send you over to our product pages for more info about integrating social networks with your next campaign.