Facebook Agency Olympics in Chicago
Jun 22, 2016
Facebook Chicago hosted the 2016 Facebook Agency Olympics (#fbagencyolympics) this past Thursday. Marketing agencies such as Ogilvy, BBDO, Starcom Mediavest Group were on hand to compete for the coveted lower case "f" trophy. We were honored to be asked to provide photo services for the event.

Agencies dressed in various themes including SWAT, Girl Scouts and Wookies and competed in challenges. The competition included 'skills' such as beer pong, cornhole and flip cup. Of course there was also a social media aspect, teams needed to complete a scavenger hunt using specific apps/services and post specific photos and videos to Facebook and Instagram. Examples included using the Layout app to recreate the famous Brady Bunch collage and posting a team photo to Instagram using the Fotozap Booth.
From Mock-up to Booth Delivery in One Week
The photo booth selected for this event was our metal tower edition. We created a custom vinyl wrap and attract screen for the iPad. Here are the mock-ups and final result for this event: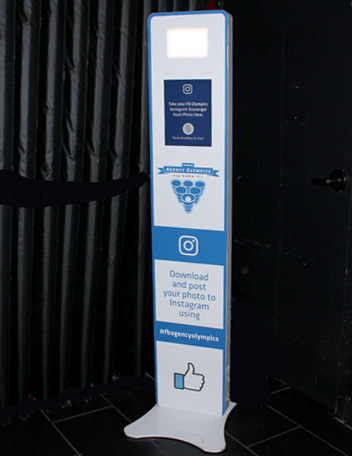 Social sharing is a core activity at every event. Competitors typed in their email address or SMS number and instantly received a branded version of their photo or video to share on Facebook or Instagram. Seconds after the photo was taken, you could see the participants on their cell phones, laughing, and sharing the fun with the click of a button.
About Our Booths
Our booths can be fully branded and even cut into a custom shape. For our metal tower edition, we wrap it in custom printed vinyl that can include any colors, logos and messaging you desire. We also create a custom series of images to serve as an attract screen; modify the color scheme; change the sharing options; and add one or more photo overlays to the booth software. This can all happen remotely for one or hundreds of kiosks.
Some example shots from the event
Here's a few selected photos from Instagram. You can see more by searching for #fbagencyolympics.