Case Study: Restaurants
Sep 7, 2010
Overview: Photo activation in a restaurant setting
A popular casual dining chain wanted to capture the friendly neighborhood atmosphere at its locations, and leave diners with a fun memento of their visit. Picture Marketing created a pilot program for the concept, placing photographers at two flagship locations in New York City near bustling Times Square. The restaurants provided a captive audience for the photo opportunity. The goal: use the photo op to add to the buzz and excitement at both locations. The restaurant also wanted to drive traffic back to its website, encourage visitors to share their photo memories with friends and family, and allow cross-promotion with its national and local community partners.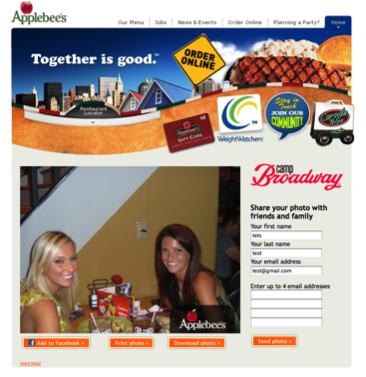 Results
Picture Marketing's pilot program captured 917 photos over eight evenings during August 2010. Over 47% of those photos were viewed online by a guest, resulting in the collection of 486 email addresses that represented opt-in contacts for the restaurant to use in future marketing communications.
The program also generated healthy viral activity as guests shared their photos online: a total of 2,496 unique page views were recorded, resulting in an average of 5.71 views for each image. The 486 initial guests invited 253 friends to view their photos through the Picture Marketing system. In addition, a number of participants posted their photos on Facebook pages, generating 895 views from Facebook viral activity. As is typical with Facebook postings, the viral activity continued long after the pilot program ended. A week after the program wrapped, viral activity increased photo visits by about 15%.
In an online survey, guests were asked about their dining preferences, "favorite things" about the restaurant, and how often they ate at the chain. The restaurant collected this information to inform and personalize follow-up communications, and to deliver custom offers based on the diners' feedback. The campaign website featured prominent co-branding for the restaurant's partners, and allowed visitors to click through to find more information about how to participate in the partners' efforts to build community and stay in touch with the neighborhood.

Campaign Summary
• Over 100 photos per evening were captured, using just a single Ricoh Fotozap® Camera.
• Of the individuals invited to see a friend's photo, 53% viewed the image at least once.
• Viral activity created 5.71 unique views for each individual image.
• Total unique photo views: 2,496, rising weekly with viral shares and Facebook posts