Capturing Time Slice Images with a Camera Array
Apr 2, 2015
We just returned from the BNP Paribas Open at Indian Wells Tennis Garden where our technology was a key component of the Bank of the West sponsorship at this premier event. The 'Smashcam' was powered by the Fotozap Camera Array: a techno-magical setup which used 16 pro cameras to turn consumer images into 3D shareable moments.
Our array was front and center in the highly trafficked exhibitor area. When tens of thousands of fans poured out of the stadium between matches, they were treated to the Smashcam opportunity.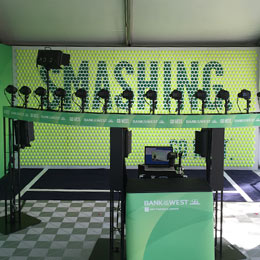 Complete the Picture
Camera Array options include 3D animated background images, fun with unique props, pre and post-roll video clips, and many more ways to customize the consumer images to match your message. For Bank of the West, we provided an 80-inch screen and streamed images of the Array photos in a cascading social gallery.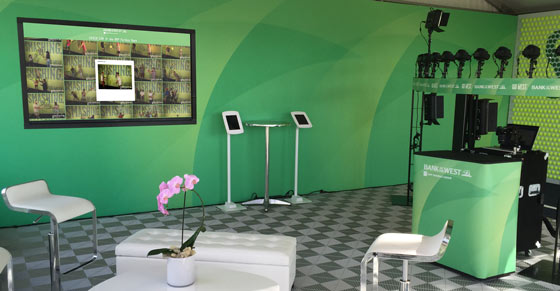 The Footprint with Social Gallery and Photo Registration Kiosks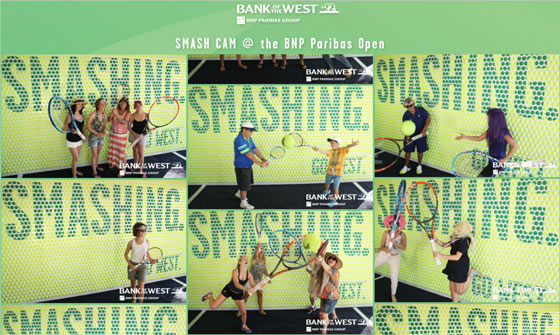 The Animated Social Gallery
Turn-key activations make it easy for brands and agencies to incorporate the Array…or talk to us about purchasing a system and using your own crew to run it. We'll come to your first event, and train your team on the software and physical setup.
Make Your Next Event Epic
It's a constant challenge to attract attention at premier events. Picture Marketing has built its entire business on helping brands and agencies meet this challenge at every budget level. Find out about the Camera Array and our many other photo activation solutions.
Click for a free personalized recommendation about how event marketing technologies can be added to your event.

Request a Customized Proposal