Add Social Marketing to Any Event in 6 Easy Steps
May 3, 2013
If event attendees aren't sharing photos and videos featuring your brand, then your event marketing program made no lasting impact.
More and more, social marketing is marketing. Sure, brands use paid techniques to push their message out, and create social content to attract attention inbound, but studies show that social media shared peer-to-peer has the biggest impact on purchasing decisions.
We have found that event marketing creates lasting social media impact when the marketer can answer 6 simple questions…
1. How will images be captured?
Some number of event attendees will organically capture images and share them, and some of those will feature your brand. But to ensure a real impact, companies orchestrate the capture of photos and videos that feature their brand. There are plenty of good options for capturing photos and videos of attendees that lead directly to branded social sharing:
Deploy roaming photographers view
Capture video interviews of guests view
Publicize a #hashtag
Create a photo booth experience
Set up a photo studio view
Install image capture into the experience
Pro Tips: Choose capture methods that fit into the event environment. Consider combining multiple methods to create an image sharing tipping point. While the platform should be sophisticated enough to accomplish your goals, the onsite piece should be as easy-to-operate as possible. Your staff will thank you and your results will improve.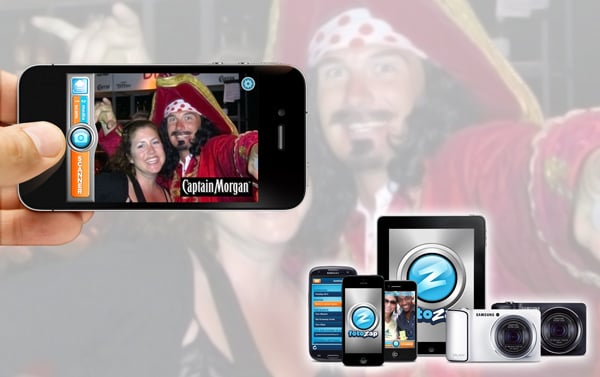 2. How will images be delivered?
When a brand is actively capturing images of attendees, the method of delivery should be carefully considered. There are multiple ways to deliver the captured image to a guest:
Giveaway cards ( view)
Email delivery ( view)
Retrieval kiosks ( view)
Onsite prints ( view)
SMS
Mailed postcards ( view)
Projected slide shows
Promotional items (buttons, posters, etc.)
Pro Tips: Remember that the photo or video should be given as a gift, so choose a method that will feel the most like a gift while fitting into the operational limits of the situation. Consider combining multiple methods to cover a variety of situations and consumer preferences.
For example, asking for a consumer's email address or SMS number works well in some situations, but can quickly becomes a hassle if there are lots of people, the environment is loud, or the consumer has privacy concerns. For those situations, you should consider a method like handing out a giveaway card with a private code.
Cards are a good choice to be used instead of–or in addition to–email address collection because: the physical card creates a memory trigger, they can be handed out quickly with no mistakes, they avoid an awkward back-and-forth about correctly spelling the email address, and the cards can serve a dual marketing purpose by integrating coupons or other incentives.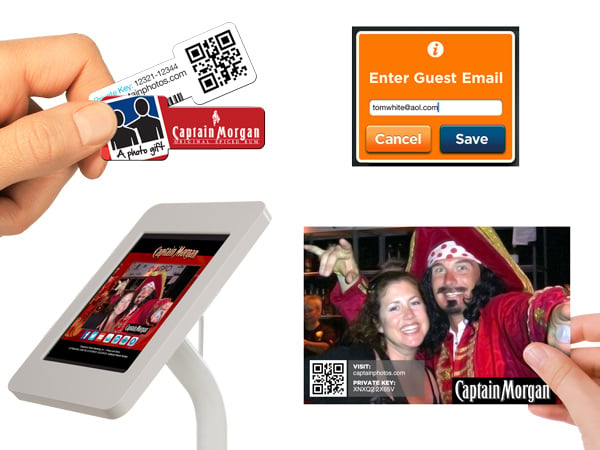 3. What story do guests want to share?
People use social media to share interesting stories and keep up to date with who they care about. So individuals are always looking for flattering stories they can share about themselves. When a brand captures an image of a consumer and transforms it into a cool story, people love to share it. There are several tactics to help turn a captured image into a shareable story:
Allow people to show themselves as insiders
Put a person into a surprising or novel context
Capture an image that creates an emotional response
A photo which shows you attended a special event
Sharing that delivers practical value (e.g. info or savings)
Pro Tips: Look for stories that people are already sharing about your event or brand, and then figure out a way to offer that experience to everyone. Consider having multiple stories to select from, so different groups at the same event can tell different stories to their peer groups.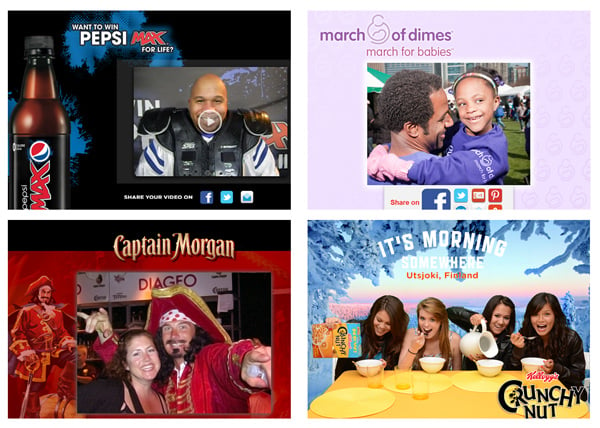 4. How do guests want to share?
Different stories and target markets call for different sharing methods and social network integrations. Guests want to share flattering images of themselves without seeming to brag; so make sharing to social networks a simple choice for them to accept. Emphasize different networks depending on campaign or audience:
Facebook
Twitter
Google+
Tumblr
Pinterest
YouTube
SMS
Email
Others…
Encourage your guests to share by adding interactive social promotions:
Photo or video competition ( view)
Facebook apps ( view)
Public gallery ( view)
Consumer internet uploads ( view)
Insert-a-Face interactive ( view)
Virtual Greenscreen ( view)
Before and after ( view)
Photo effects ( view)
Pro Tips: Empower your guests by making sharing a choice; people can get riled up when a brand captures and then auto-shares images to a public album without their permission. But if attendees first view their image privately and then decide they want to share their story publicly or privately, everyone is happy.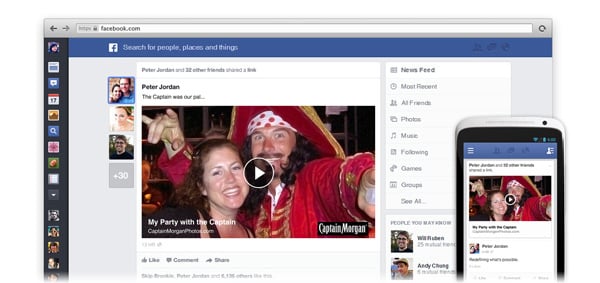 5. What is the one metric that matters?
While a variety of metrics are important and should be tracked, it is often helpful to boil it down to which single metric is the most important to your campaign. This helps you judge the effectiveness of different execution strategies and calculate ROI. Important metrics include:
Media shared to social by consumers
Leads generated
Opt-ins
Survey responses
Event attendees who visited website
Onsite buzz
Social follower count
Pro Tip: One key metric to consider is how many people shared their photo or video with their peers. This is way more valuable than a consumer clicking "Like," for example. Once consumers have shared a branded image of themselves, they become brand superfans, which results in a positive impact on other social and sales metrics.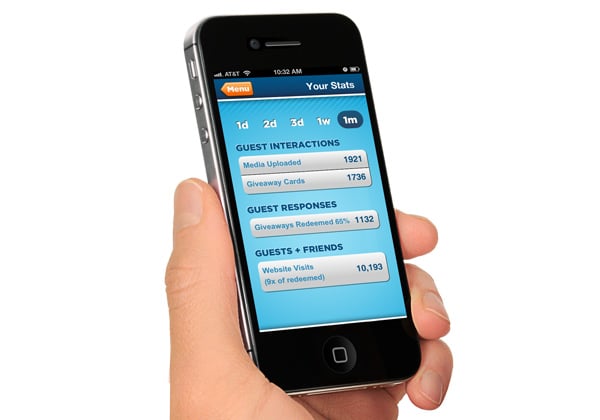 6. What is the scale of the opportunity?
Triggering peer-to-peer sharing of personal photos and videos is incredibly valuable. Once the campaign has surpassed your metrics for success, make sure you will be able to scale based on the size of the opportunity. Decide on the type of event to start with, and how the campaign could scale as the opportunity proves itself:
Pilot programs
Influencer events
Signature events
Local or regional events
Shopper marketing campaign
Large scale roll-out
Multi-market deployment
Pro Tips: Look for technology that supports activation at different scales. This allows you to test, refine, and test again at an event, and then roll-out the campaign when metrics are proven. Deploy at different scales simultaneously; the same campaign used onsite at the Super Bowl can be activated at regional in-store events.
Another way to scale is to begin immediately with a ready-to-go campaign concept (such as Event Interviews), and then opt for deeper customization and system integration as success metrics are met.
Then…integrate with your marketing campaign
Any executive planning a marketing initiative that includes experiential should decide what will cause attendees to share photos and videos. At times, the decision might be to simply allow organic photo sharing to happen. But if a brand doesn't want to leave social marketing to chance, they should use these 6 steps to create an action plan. The goal is for every event attendee to have a social media story to share with their friends.
To complete the picture, onsite social media creation should work together with other campaign elements:
VIP experiences
Sweepstakes
Mass media advertising
Outdoor advertising
Celebrity tie-ins
Sampling
Staffing choices
Pro Tip: Put social media creation at the beginning of your decision making process for event and social marketing planning. This allows you to build social media storytelling around every participant at the event, as well as around, for example, a sweepstakes VIP Experience.
Our offer to you…
If you are planning any type of experiential, face-to-face, or social marketing initiative, you should have an action plan to ensure consumers will share photos and videos that feature your brand.
Our offer to you is this: my team and I will create an action plan based on your particular opportunity. This is based on our ten years of experience creating technology and experiences that answer these six questions. No obligation. Take a look at our recommendations and offerings and see if they are a good match for what you are trying to accomplish. To start let us know what is your most important event or social marketing goal. Call us at (949) 429-3030, or fill out this form.