5 Thoughts About QR Codes
Oct 21, 2010
Since the folks here at Picture Marketing are all about creating digital+live connections, QR codes are right in our wheelhouse. We see them as a good tool to connect consumers in the real world with digital content. Given how easy they are to create and use, the real hurdle as we see is simply to get everyone to the point where they've got a QR reader installed on their phones, know what the codes are and how to scan them, and then keep everyone excited to see what's "inside the box," so to speak.
So… are QR codes on the road to adoption, or will the trend fizzle? Here are our five talking points:
1. Consumer recognition
According to a recent survey by Siegel+Gale SimplicityLab, 15% of consumers recognize and would use a QR code printed on a new car label [download the survey results PDF here]. That's about half of smartphone users (which make up 30% of the cell-phone owning population). Not exactly an overwhelming number, but that percentage has been steadily growing for the past several months.

2. Breadth and depth
As experiential marketers, we're starting to see QR codes everywhere. The square "quick response" codes act as a shortcut to a piece of information, like a URL or a typed message. When scanned by any smartphone QR code reader, they link users directly to a website, play a YouTube video, dial a phone number, or launch a variety of other actions directly on the device.
3. Novelty factor
A healthy percentage of the new marketing campaigns we're seeing feature some sort of QR integration. Because the codes can link to such a huge variety of data, they're being printed and stickered everywhere. They offer a novel way for consumers to access additional information about a product, and there's a certain "what's this?" element to the scanning process that makes everyone curious to participate.
4. Consumer trust vs. the spammers
We're guessing that it won't be much longer before QR codes approach ubiquity. What remains to be seen, though, is whether their growth will result in a marketing channel that's trusted by consumers. If not – if, for instance, some marketers take advantage of the fact that individuals are essentially opting in to an unknown and use QR codes as a tool to deliver spam or other, more malicious, packages – the trend could fizzle under too much suspicion.
5. Marketers can shepherd this technology toward success
At the moment, widespread popularity for the technology seems to rest in two places: first, it's a matter of educating consumers and pushing toward that tipping point. Second, the industry needs to foster responsible execution so that nascent consumer trust will bloom into widespread adoption. Of course, there will always be those marketers who exploit the tech. But bigger brands have a major advantage in their corner: they've already got masses of trusting fans ready to respond to their calls to action. If they can "own" this new technology as it matures, they'll engender the kind of acceptance and trust needed to bring QR codes to their potential as powerful, engaging tools for the marketing landscape.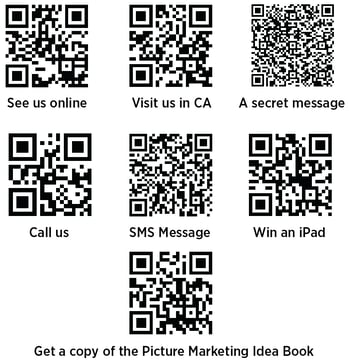 What's new from PM
We're integrating QR code technology into our Photo Access Cards so that visitors can simply scan a printed QR code to access their event photo or view a campaign-branded website or message. Hungry for more? Click here to download the info sheet.